Investments and Retirement
Make smart investment decisions
CALCULATE YOUR RETIREMENT POTENTIAL
As a reputable team of financial planners, we are committed to successful investment experiences for our clients. We provide insights and recommendations to help you make the right investment decisions based on your goals and capacity to manage risk. The assets should be there when you need them in retirement. Many factors such as market volatility and big corrections can spoil the best-laid plan to retire.
Over the last couple of decades, we have witnessed big corrections several times. Segregated Funds provide a safe backdrop for retirement assets by providing a capital guarantee or in certain cases a guaranteed income payout. Losses that occur in RRSP's cannot be recovered as non-registered funds can be by offsetting capital losses against capital gains. When a terminal loss occurs you also lose the contribution room in your RRSP. We think of this as "inside the box investment".
Many detractors of Segregated Funds suggest that expensive fees do not make up for the inherent guarantees of Segregated Funds. When it comes to retirement funds, it is important that they are available whenever required at retirement. Mutual Funds provide no such guarantee. Mitigating the downside market risk with Segregated Funds, especially GMWB's (Guaranteed Minimal Withdrawal Benefits) attached containing a guaranteed annual increase in capital (called a nominal guarantee), takes the guesswork out of retirement.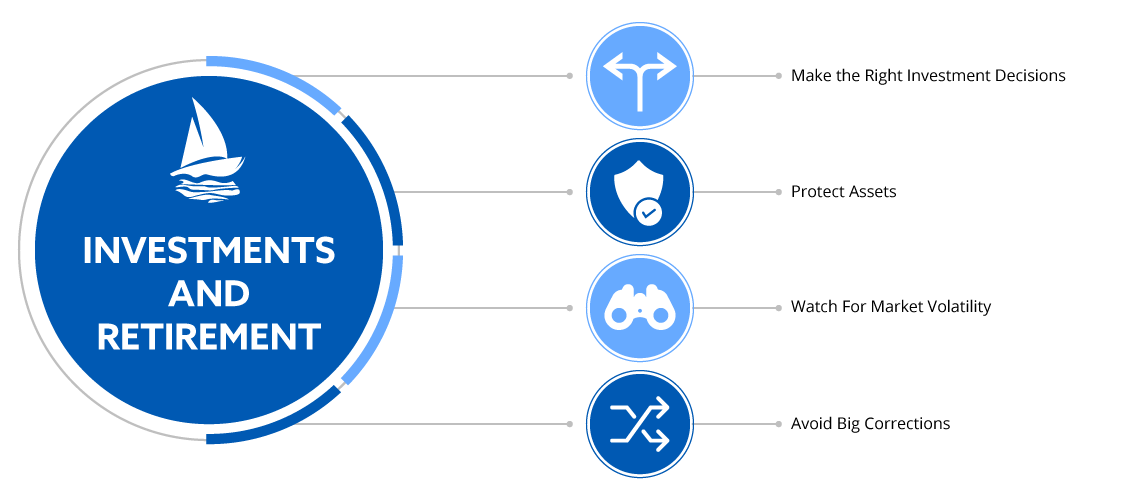 In the past 20 years or so, we have had several market corrections of a significant nature whereas someone over the age of 50 would have had difficulty retiring. When you are 30 - 35 years old you can wait out these corrections. However, after the age of 40 to 45, it becomes really difficult to see retirement in a timely manner when the market has a significant correction. Under 30 – 35 years of age, we recommend a mix of investments.
"Robo-investing" is a great option in a rising market, but it can be devastating in a correcting market. Auto market resets in a down market can deplete your portfolio in double-quick time. No computer simulation can predict the variances of human nature to any degree of accuracy.
It is important to remember that the above holds great value in the mid to long-term (5 - 25 years) and that a subscriber to the mid-risk investment model will cherish the value of Segregated Funds, especially during a market correction.
Segregated Funds avoid probate since the inherent makeup is not dissimilar to a life insurance policy. Registered Seg. Funds go directly to the beneficiary whereas Mutual Funds go to your estate (some exceptions).
Quality advice is at the
heart of how we work.
For more information on Segregated Funds,
please call us to find out how to tailor these important
securities to your specific needs.
We hold these same values when investing in TFSA'S. Losses in TFSA's mean a loss of contribution room altogether differently than RRSP's and careful consideration is important when investing in your TFSA.
In addition, we will work to balance your portfolio by utilizing self-directed investments.